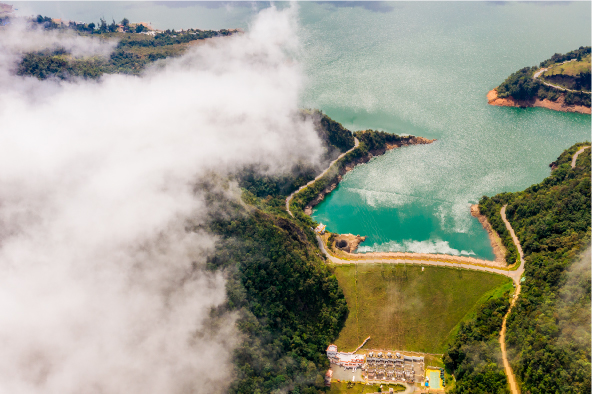 What we do
We are the energy company of Grupo Argos, and we are passionate about renewable energies and energy efficiency. We generate and transmit efficient energy from renewable sources with thermal backup.
We have found new ways to help our customers get their home, business or urban project connected and enjoy all the advantages of the new era for energy.
View more
Business in figures
Colombia
En Cifras
1,155,000 customers
19 hydroelectric power plants (Valle, Antioquia, Tolima and Cauca)
1 backup thermal power plant (Santander) 
4 solar farms (Bolívar and Valle del Cauca) 
45 solar roofs 
22 charging stations for electric vehicles and 55 home chargers installed 
16 transmission substations and 291 km of networks 
168 distribution substations and 42,000 km of networks
Panamá
En Cifras
38 customers
3 hydroelectric power plants (Chiriquí)
2 backup thermal power plants (Colón)
1 solar farm (Coclé)
9 solar roofs
4 charging stations
Costa Rica
En Cifras
10 customers 
2 solar farms (Comayagua) 
3 solar roofs 
1 charging station
Honduras
En Cifras
1 customer
1 wind farm (Guanacaste) 
1 solar roof
2017
Celsia Solar Yumbo starts up operations (Valle del Cauca, Colombia), the first large-scale wind farm in the country with 9.9 MW.
2015
The administrative integration of Celsia and Epsa's operations.
The Cucuana (Tolima) and Bajo Tuluá (Valle del Cauca) power plants start up operations.
2012
In order to adopt a name that would allow positioning the company better as a differentiated player, leader and innovator in the energy sector and reach more widespread recognition in the local and international investing community, the name was changed to Colinversiones por Celsia S.A. E.S.P.
2009
The acquisition of 50 % of Epsa (Empresa de Energía del Pacífico).
The transmission, distribution and sales business begins operating in Valle del Cauca.
2007
As Colinversiones, they focused on investments in the energy sector by purchasing Termoflores (Zona Franca), the Meriléctrica Thermal Power Plant and the Río Piedras SHPP.